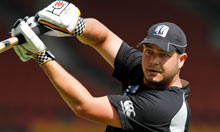 Jesse Ryder was admitted to Christchurch hospital with multiple injuries including a fractured scull.
Police have made an arrest in connection with the late-night assault that left the New Zealand cricketer Jesse Ryder in an induced coma in hospital with serious head injuries.
Ryder, the 28-year-old Wellington all-rounder who has played 18 Tests, was admitted to Christchurch hospital in the early hours of Thursday morning having suffered multiple injuries, including a fractured skull, in the attack outside a bar.
Police investigating the incident confirmed on Friday that a 20-year-old man would appear in court on 4 April after being charged with assault.
Source:
www.guardiannews.com